SIGMATA: This Signal Kills Fascists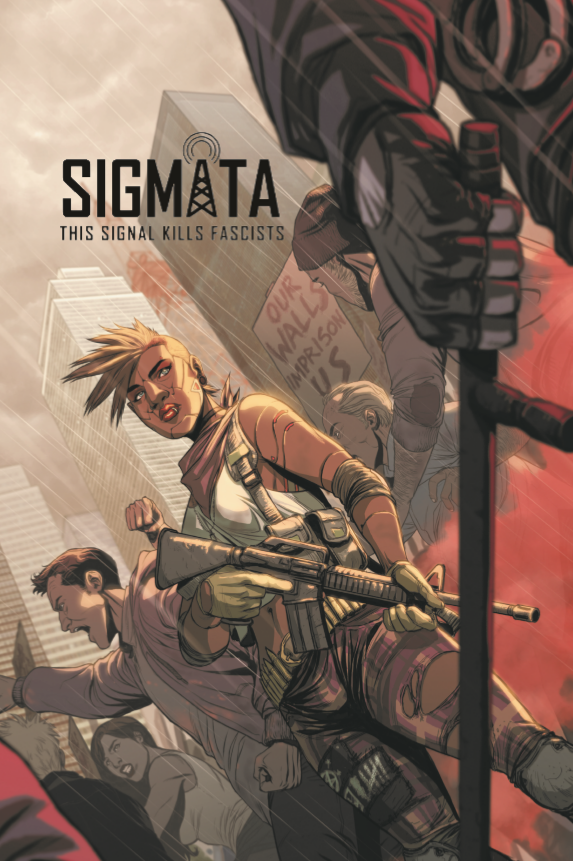 From the author of Cryptomancer comes SIGMATA: This Signal Kills Fascists, a cyberpunk tabletop role-playing game about ethical insurgency against a fascist regime, taking place in a dystopian vision of 1980's America.
Players assume the role of Receivers, the superheroic vanguard of the Resistance, who possess incredible powers when in range of FM radio towers emitting a mysterious number sequence called "The Signal." When the Signal is up, Receivers lead the charge against battalions of Regime infantry and armor or serve as the People's Shield, protecting mass demonstrations from the brutality of a militarized police force and neo-Nazi hooligans. When the Signal is down, however, Receivers are mere mortals, desperately fleeing from a powerful state that senses their weakness.
It's called the Sigmata, a Signal-induced stigmata, because it is a both a blessing and a curse. At least when you're marked by the state, you can't sit on the sidelines anymore.
Construct your cybernetic revolutionary with a wide assortment of cybernetic implants, Signal-fueled superpowers, iconic equipment, and invokable story hooks.
Leverage strong teamwork mechanics to prevail in structured scenes of combat, evasion, and intrigue, each scene putting every player at the table in the spotlight.
Manage a fragile alliance of partisans from vastly different ideological backgrounds and steel the Resistance against sabotage, extremism, dwindling morale, and shocking betrayals.
Contend with the Regime in a constantly evolving political struggle powered by the game's built-in insurgency sandbox, which incorporates Resistance and Regime strategy, factional loyalty, and the sentiment of the people.
This Signal Kills Fascists. Repeat the Signal.
Content Warning: Explicit language and discussions/depictions of a political ideology centered around extreme bigotry.
Accessibility Warning: Unfortunately, this product is not well optimized for low-visibility customers at this time. We regret this misstep and encourage all game designers to incorporate accessibility into their designs.

Thematic Warning: This is a game about a fictional insurgency engaged in an armed conflict with a fascist state. It is a (cautious, methodical) study of violent insurrection, not a power-fantasy game about achieving social justice outcomes. There's nothing wrong with said games. It's just that this isn't one of them.
Purchase
In order to download this game you must purchase it at or above the minimum price of $19.99 USD. You will get access to the following files:
Sigmata (Core PDF, High Res)
130 MB
Sigmata Printable Sheets
2 MB
Sigmata (Core PDF, Low Res)
7 MB
Comments
Log in with itch.io to leave a comment.
We threw an APC through a helicopter during the playtest. What other games will let you do that?