AIRLOCK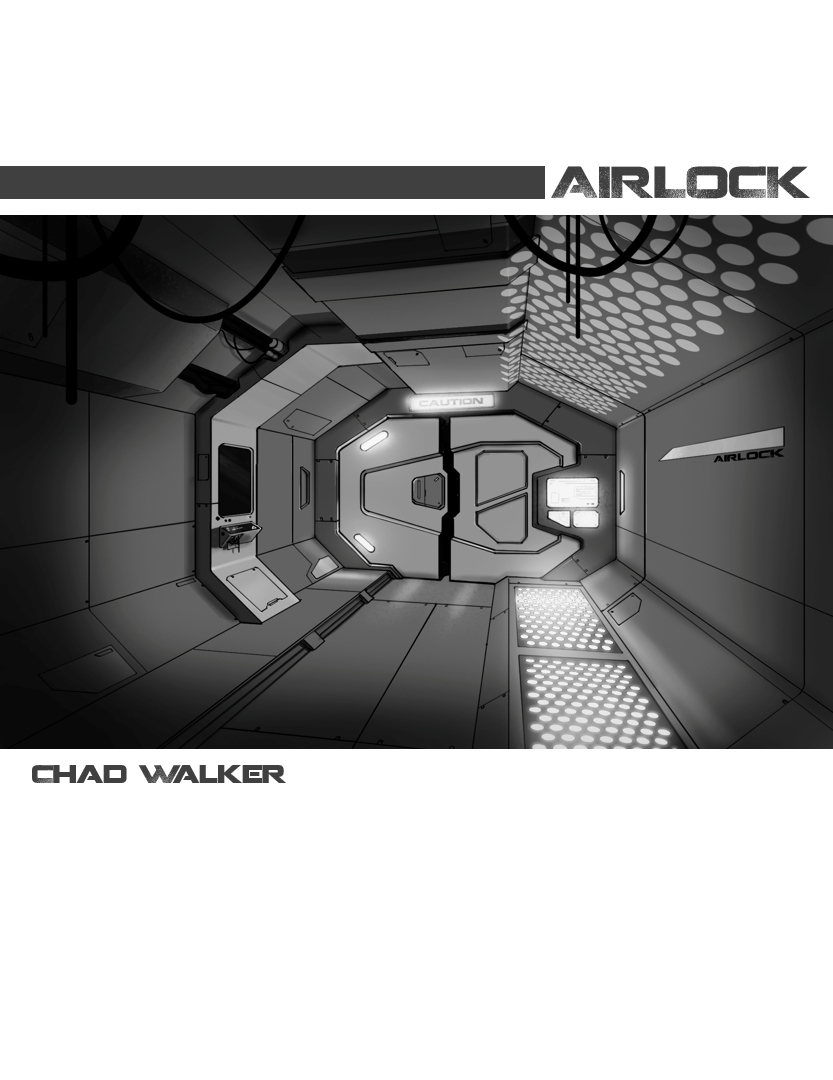 AIRLOCK is a space opera game about a small crew of adventurers constantly getting into trouble, both on and off their spaceship. Our heroes, called voidnauts, are some of the most resilient, cunning, and capable specimens in deep space. Their ship, an advanced frigate armed to the teeth, is just as formidable. Whether the voidnauts are mercenaries, explorers, convicts, traders, scientists, diplomats, refugees, or something else entirely, they will inevitably get caught up in intergalactic struggles, chart unexplored systems, and most definitely regret responding to that distress signal.
AIRLOCK is named after the most ubiquitous and important thing in space fiction. The ship's airlock is the established boundary between the known and the unknown, between the terrestrial and the extraterrestrial, between relative safety and imminent danger. On one side of that door is an insular world of relationships, quiet moments, and nagging boredom. On the other side of that door is a maelstrom of violence, vice, and infinite vacuum. This game explores how what happens on one side of the door influences what happens on the other side of the door.
AIRLOCK is a sandbox game that is enthusiastically "canon free" and "science optional." Expect very little exposition about the game's setting and only a few attempts to situate the game's technology in the realm of realistic physics. Whether you're playing in a gritty near-future hard science campaign or a gonzo galactic struggle featuring aliens and magic, it's really none of our business. This game supports both extremes and everything in between.
A game for 1 GM and 3-5 players.
Uses D10 and D6.
Sessions last 2-4 hours.
Character building leads to system/sector building.
Supports virtually any type of space opera setting.
Teamwork and relationships are the core pillars of this game.
Built on the chassis of SIGMATA: This Signal Kills Fascists, but is a standalone game.
Large font, navigation links, built to print on your home printer.
Purchase
In order to download this game you must purchase it at or above the minimum price of $10 USD. You will get access to the following files:
Airlock_AwayTeam.pdf
407 kB
Comments
Log in with itch.io to leave a comment.
Hi, will there be a print version or is it PDF only?
Hello. There will not be a print version of Airlock but there will be a print version of Voidnaut (Airlock 2.0), likely to release some time next year. You can follow @LandNop on Twitter to stay in the loop.
I've been playing AIRLOCK almost weekly since its first days of playtesting. The procedures for collaborative worldbuilding are great. The crew relationship mechanics are fantastic, especially for folk who otherwise have a hard time getting in character. And the mission-downtime structure produces wonderful contrast between frenetic action and quiet drama that I've struggled to accomplish with my own designs.